Today is #NationalPuppyDay and while the scope of this "holiday" is very wide, here at Crime Stoppers, we wanted to take a moment to highlight the wonderful work that is done by EPS and RCMP Canine Units every day!
Police Service Dogs are such important and valuable parts of law enforcement organizations. Here is some information from Edmonton Police Service's website:
The Edmonton Police Service Canine Unit was officially formed in 1967 by Val Vallevand. Presently there are 14 handler and dog teams and two Sergeants who are stationed at one of the finest kennel facilities in North America. The 14 dogs currently in the unit are all general purpose police dogs, of which three are cross trained for narcotic detection.
Members of the Canine Unit provide the citizens of Edmonton with 24 hours a day, seven days a week service. The teams respond to calls that involve tracking, criminal apprehension, area / building searches, evidence searches and narcotic / explosive detection.
The Edmonton Police Service Canine Unit has a long and proud history with members and their dedicated partners committed to taking a "Bite out of Crime" in Edmonton.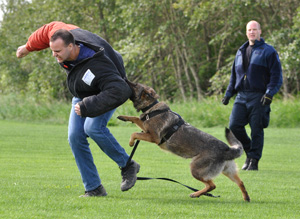 To become a member of the Canine Unit, Constables must have a minimum of five years on the job. During that time Constables who have an interest in becoming a dog handler begin training with the unit on their time off. They train as quarries, or what you might call potential bad guys.
To gain entry into the unit, members must take a Puppy Imprinter course and then apply to be a puppy handler. If accepted, an eight week old puppy is assigned to them. While raising this puppy, the member still works their regular duties at their assigned job.  Depending on vacancies, the member may enter the Dog Master course and begin working in the Canine unit once the puppy reaches 18 – 24 months of age.
They learn to lay tracks, take dog bites and hide in the most difficult and uncomfortable places. Quarries with enough seniority may then apply to be puppy holders of potential police service dogs. Due to the high standards set within the unit, only the most qualified and dedicated applicants and dogs are accepted. When the puppy reaches one to one and a half years old, the dog and handler enter into an extensive training period.
During training, the teams learn to become proficient in the areas of tracking, criminal apprehension, searching, obedience and agility.  Presently, Police Service Dogs and their handlers can remain in the unit for up to seven years, which are considered the most productive years of a police dogs life. The primary function of the Canine Unit is to provide support to the Patrol Officers on the street. The teams respond to any or all crimes in progress where suspects are fleeing on foot or possibly hiding. The unit has expanded its services and also uses trained Narcotic Detection and Explosive Detection dogs.
The Edmonton Police Service Canine Unit has also made some really great videos about the unit – check them out on their webpage!
Did you also know that you can get EPS Police Service Dog trading cards at any EPS police station? More information on that here!
---
*Cover photo from the Edmonton Sun. Article photo from edmontonpolice.ca